Two free events for aspiring female coaches are being held at Cheshire FA's headquarters in Northwich.
Delivered by Chris Welburn, The FA's Regional Coach Development Officer, the two workshops – Stepping over the Sidelines and Stepping onto the Grass – will take place at Moss Farm Recreation Centre.
Workshop 1 Stepping Over the Sidelines
Introductory workshop for women and girls age 14 or over from all backgrounds, who are or would like to get into volunteering and coaching football.
Date: Monday 31 January 2022
Time: 7.15pm to 8.45pm
Venue: Online event (link will be sent after registration)
Cost: FREE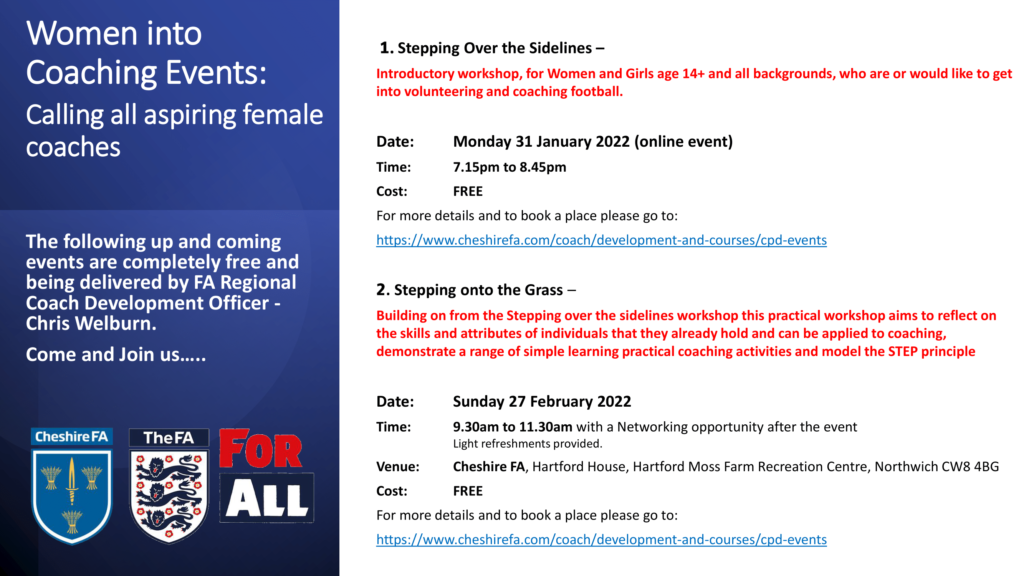 Workshop 2 Stepping onto the Grass
Building on from the Stepping over the Sidelines workshop, this practical workshop aims to reflect on the skills and attributes of individuals that they already hold and can be applied to coaching, demonstrate a range of simple learning practical coaching activities and model the STEP principle
Date: Sunday 27 February 2022
Time: 9.30am to 11.30am with a networking opportunity after the event (light refreshments provided)
Venue: Cheshire FA, Hartford House, Hartford Moss Farm Recreation Centre, Northwich CW8 4BG
Cost: FREE
For more details on both events and to book a place, visit www.cheshirefa.com/coach/development-and-courses/cpd-events.