Chester FC Community Trust is a registered charity (number 1174370) using the power of sport and appeal of Chester FC to improve and enhance the lives of people living in Chester and the surrounding areas. If you would like to get involved, there are a number of ways you can support our work.
Volunteer
If you are interested in volunteering with Chester FC Community Trust, we would be delighted to hear from you. There are opportunities for volunteers of all ages to support our programmes including coaching, education, health, inclusion and on matchdays.
To discuss how you can get involved, please email community@chesterfc.com or contact us on 01244 371376.
Donate
You can support our work and help us have an even greater impact on our community by donating to our JustGiving account. You can make a one-off donation or set up a monthly direct debit and if you are a UK taxpayer, we can claim Gift Aid on eligible donations too, meaning we receive an extra 25p for every £1 donated.
Every penny raised will make a huge difference and enable us to engage with more people, create new opportunities and have a lasting positive impact on the lives of the people we work with.
For more information visit our JustGiving page at www.justgiving.com/chesterfc-communitytrust or click on the button below.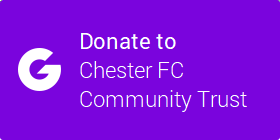 Fundraise
If you are considering taking part in, or hosting, a fundraising event and wish to nominate Chester FC Community Trust as your chosen charity, please email community@chesterfc.com or contact us on 01244 371376.