Chester FC Community Trust has been awarded a grant of £1,000 from the Premier League, The FA and Government's Football Foundation, to continue providing mental health and PAN-disability football sessions.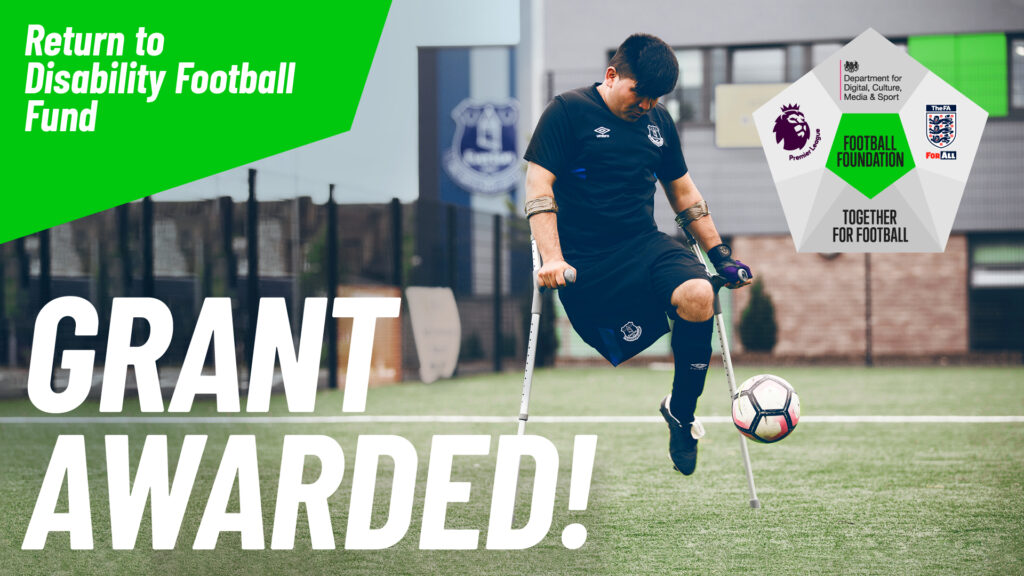 Funded by The FA and Sport England (using National Lottery funding), this grant comes as part of the Return to Disability Football Fund, a fund launched recently to provide grants of up to £1,000 to support disabled people getting back to playing football following the pandemic.

Disabled people and individuals with long-term health conditions have been more adversely affected by Covid-19 than the wider population. This has directly impacted on disability football participation rates. The new Return to Disability Football Fund was launched to help tackle this challenge.

This grant will enable the Community Trust, which has two adult teams and a junior team playing in the Cheshire FA Ability Counts League, to run three coaching sessions a week. This will provide much needed extra support for players of all abilities, giving an overall boost to the standard of grassroots football in Chester following the pandemic.

Jim Green, CEO of Chester FC Community Trust, said: "The pandemic has been particularly challenging for our participants with many having experience of mental health problems previously.

"Football is a significant part of their lives, providing regular opportunities to be active and a network of support from coaches and
fellow participants. Not being able to take part in football has been difficult.

"This grant will enable our teams to return to activity safely and participate in the Cheshire FA Ability Counts League. We will be running two mixed adult teams and a mixed junior team with three sessions a week alongside the league fixtures and festivals."

Football Foundation CEO Robert Sullivan commented: "Understandably, we've seen a significant drop off in the number of disabled teams and people playing football during the pandemic. As we emerge into a new phase of living with Covid-19, this is a critical moment for football and promoting physical activity across the nation.

"We know disabled people are keen to get playing again, and it's really important we help everyone return confidently to playing football. It's one of the best sports for everyone to get involved in because it offers a range of benefits across physical health, mental wellbeing and social connections. This is why grants for clubs such as X to support X are more vital now than ever.

"We're delighted that our Partners, the Premier League, The FA, the Government and Sport England, along with the National Lottery, are investing in this fund to ensure football gets going again and grows within our communities."

The Return to Disability Football Fund is the latest in a series of additional funding measures launched by The Premier League, The FA and Government's Football Foundation to help grassroots football deal with the impacts of Covid-19.

In March this year, the Foundation launched the Return to Football Fund that provided £2.1m to support clubs return to football or activities aimed at bringing new players to the game. Clubs were also helped with the costs towards the essential equipment and facilities they needed to start playing again through the Grass Pitch Maintenance Fund and Small Grants Scheme.

For more information about all of the funding available to grassroots football clubs, visit the Football Foundation website.