Chester FC Community Trust is pleased to announce the launch of regular Visually Impaired Football sessions in partnership with Vision Support.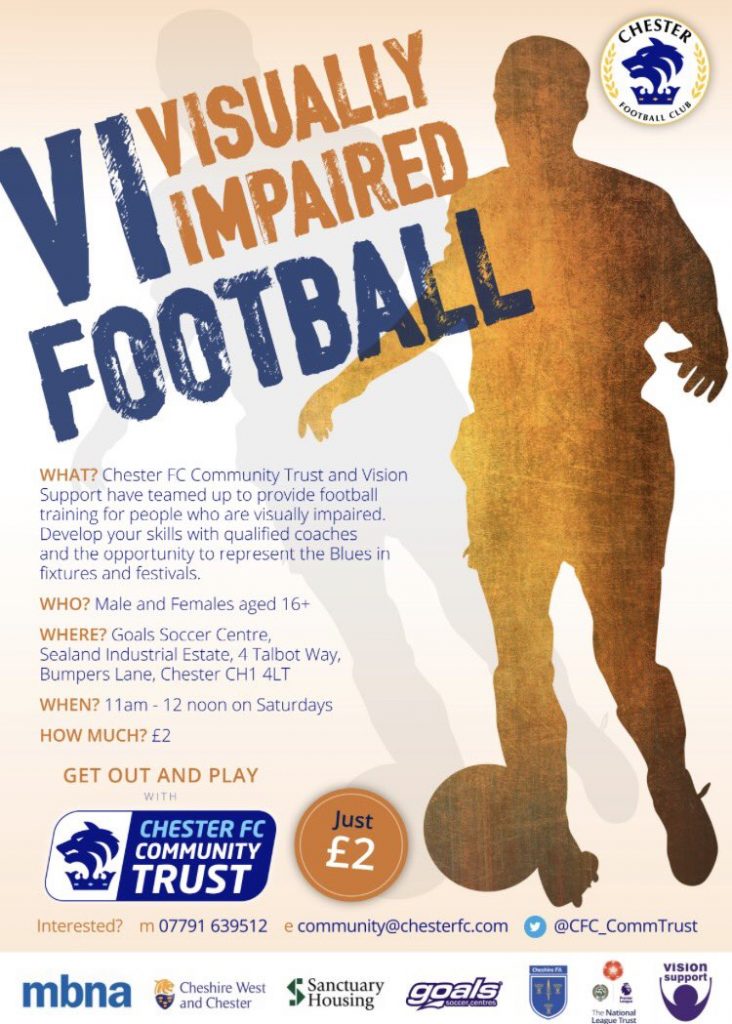 The two organisations have been working with Cheshire FA and following a successful pilot the sessions for male and female players aged 16 or over will now become part of the Trust's developing disability football programme.

Sessions will take place on Saturdays from 11am to 12 noon at Goals Soccer Centre, Talbot Way, Chester CH1 4LT.

The cost is £2 per week and the sessions are open to everyone, not just those who access Vision Support's services.

Ben Richards, community coach for Chester FC Community Trust, said: "We had a great response to the pilot sessions and we've been working closely with Vision Support and Cheshire FA to develop the programme.

"The sessions are for anyone with a visual impairment and each week will include skills training and adapted games, and in time we hope to provide opportunities for players to take part in festivals and competitions."

Vision Support is a Chester-based charity supporting vision impaired people and raising awareness of their needs. The charity provides support and services in Cheshire and North Wales in line with its mission which is to enhance the quality of life, promote the continuing independence, and raise awareness of vision impaired people of all ages in our community.

For further details or to book places contact Ben Richards on 07791 639512 or email community@chesterfc.com.