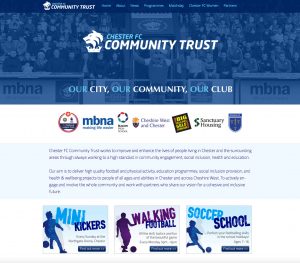 Chester FC Community Trust has launched a new website to make it easier for people to get involved and promote the organisation's community activities.

The site community.chesterfc.com will include the latest news, information on the Trust's initiatives under the four themes of coaching, education, health and inclusion, matchday experience opportunities and dedicated coverage of the Chester FC Women's team.

Online flyers and booking will make it easier than ever for people to engage with the Trust and access its range of programmes, including Mini Kickers, Soccer Schools and Walking Football.

Visitors to the site can also learn about the Trust's aims and objectives, the organisation's work within schools and its relationships with valued partners, including MBNA, the National League Trust, the Cheshire Football Association and Big Yellow Self Storage.

The site has been designed by Mike Day, who is a director of both the Club and the Trust.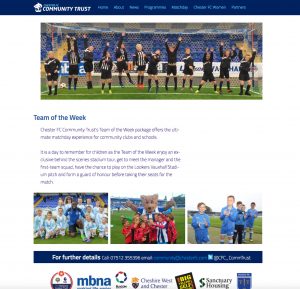 Jim Green, chief executive of Chester FC Community Trust, said: "The launch of the new website is an important step for the Trust and means we can more effectively highlight our work as well as making it easier for people to engage with us.

"Mike Day has worked incredibly hard to bring the website to life and the end result is fantastic. To be able to have information about all of our activities in one place means supporters and the wider community can keep up to date with our work and benefit from the programmes that appeal to them.

"Thanks to the hard work of Jon McCarthy, our team of community coaches and our board of directors, the Trust has made real progress over the past 18 months, and with the continued support of the Club, I'm really excited about what we can achieve in the future."