Chester FC Community Trust have launched an autism friendly football club in partnership with Cheshire Autism Practical Support (ChAPS).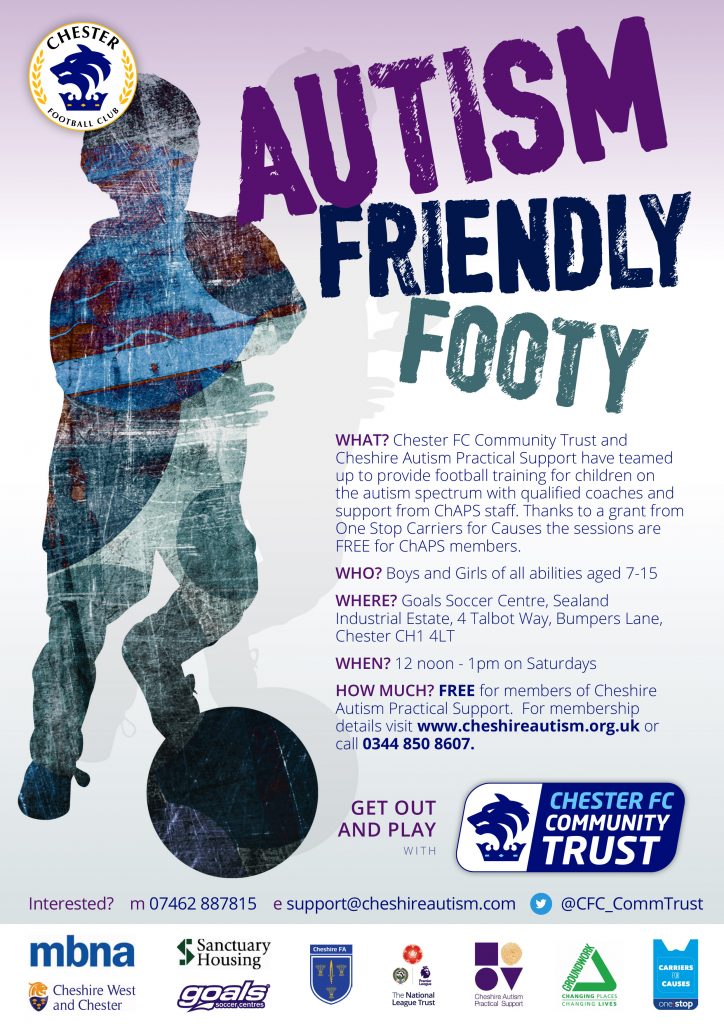 The Trust has secured a grant of £2,000 from the One Stop Carriers for Causes scheme to run weekly training sessions specifically for children with autism spectrum conditions.

Qualified coaches and ChAPS support workers lead the sessions, which take place at Goals Soccer Centre on Saturday afternoons.

Jim Green, chief executive of Chester FC Community Trust, said: "Football is for everyone and this funding from Carriers for Causes enables us to create new opportunities for children with autism to play regularly.

"The work ChAPS do to support families in Cheshire is incredible. We're very pleased to be working with them and we've had a fantastic response to the training sessions."

The grant from Carriers for Causes will be used to purchase equipment for the training sessions and go towards the costs of facilities and coaches.

ChAPS supports families with autism spectrum conditions or Aspergers syndrome, whether diagnosed or not, across Cheshire.

The charity aims to improve autism awareness, increase independence skills and use early intervention techniques to improve outcomes for children.

It provides advice, support, parental training, advocacy, counselling, mindfulness as well as a wide range of activities which are free for members.

Jo Garner, managing director of ChAPS, said: "We are extremely grateful to Chester Football Club and One Stop Carriers for Causes for enabling these fantastic training sessions for the children with autism that we support. These incredibly talented children so often are unable to access mainstream activities due to sensory difficulties and their social communication restrictions, and it is a real pleasure to be able to offer them this official training."

For more information about the 80 plus activities ChAPS run every month, including how to become a member of ChAPS, visit www.cheshireautism.org.uk or call 0344 850 8607.