Chester FC Mini Kickers is back for the new season and promises to be bigger and better than ever!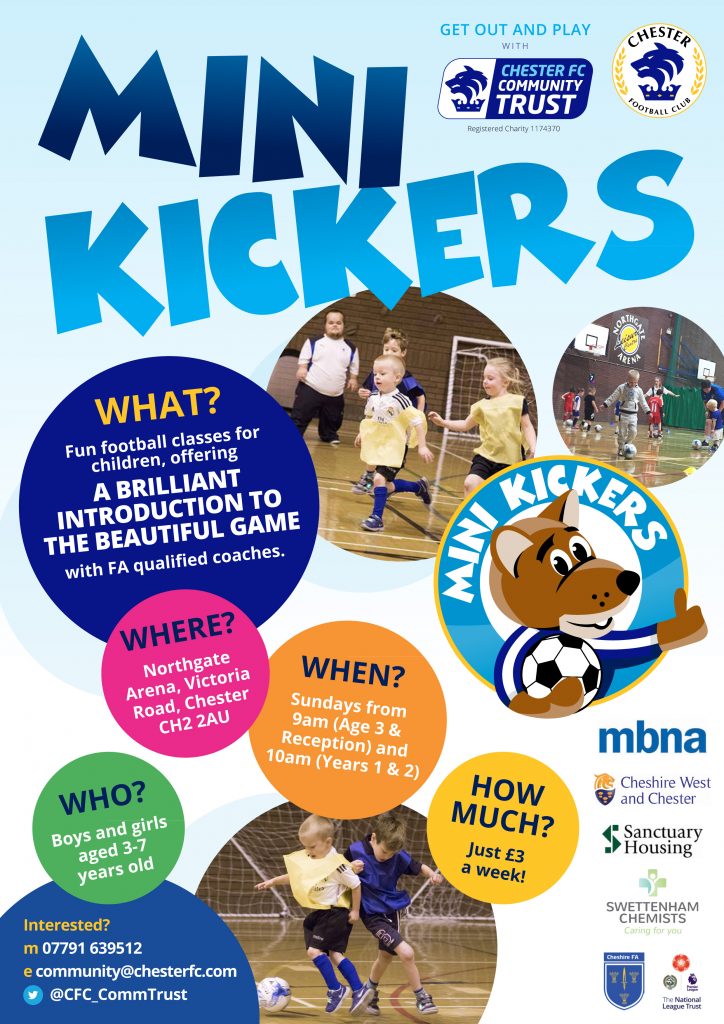 These fun football classes for children aged 3-7 offer a brilliant introduction to the beautiful game with FA qualified coaches from Chester FC Community Trust.

Mini Kickers restarts on Sunday 10th September and there are a number of exciting changes for the new season with new Mini Kickers branding, free Junior Blues membership for three and four-year-olds and new progress certificates as children develop their skills!

Mini Kickers takes place on Sunday mornings in the sports hall at the Northgate Arena with two classes: 9am for three-year-olds and children in Reception; and 10am for children in Years 1 & 2.

Each session is designed to be fun and exciting with individual and group activities, challenges and games, introducing and developing core football skills and technique such as control, passing and shooting. Mini Kickers also helps to build confidence and supports the development of fundamental movement and social skills.

Classes cost just £3 per week and there are no joining or registrations fees and no need to pay in advance.

Children can be registered 15 minutes before classes start, however parents who wish to guarantee places are advised to book in advance via community@chesterfc.com or on 07512 355396.