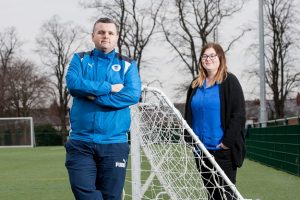 The issue of racism in football is the topic of discussion at an open forum being held at the University of Chester as part of its Diversity Festival 2017.

Kick It Out is football's equality and inclusion organisation, working to tackle all forms of discrimination in the game, including racism. The charity is joining forces with the University and its Forum for Research into Equality and Diversity (FRED) to host a panel discussion on Tuesday February 28 on the views and experiences of racism in football.

Kick It Out is gathering influential figureheads from across the game to sit on the panel, to share their views and experiences of the impact and challenges of racism in football, and to invite participants to share their views. Panel members include:

Steve Smithies, who works for The Football Association as a Regional Coach Mentor, where he is responsible for meeting the needs of BAME (Black, Asian and Minority Ethnic) coaches. Steve is also the Youth Team Manager at Nantwich Town FC.

Sean Cottrell, who is the CEO and founder of Law In Sport, works with lawyers and law firms to create targeted and accessible legal content, develop marketing strategies and provide training on digital media.

Hayley Bennett, who is shaping the future of equality in her role as Education Officer at Kick It Out. Hayley's role involves coordinating the organisation's message to young people, as well as supporting Kick It Out to develop its outreach beyond football.

Sophie Cowell, who is a member of Kick It Out's ASPIRE group. Sophie is a researcher for FRED at the University, and is studying for a PhD at the University of Chester Law School. Her PhD considers the positive action to increase the representation of Black, Asian and Minority Ethnic football managers and coaches.

The free event takes place on Tuesday February 28 between 5.15pm and 7.15pm at the Westminster Building (Room 017) on the University's Parkgate Road Campus and all are welcome to attend. Booking is essential and can be done by visiting the event page at: www.chester.ac.uk/about/diversity-and-equality/diversity-festival.

Among those supporting the event is Jim Green, Chief Executive at Chester FC Community Trust. He said: "I am very much looking forward to attending to find out more about initiatives across the country. We are fortunate that racism is not an issue generally at Chester FC. We are proud to be community oriented and we are an inclusive club with a zero tolerance approach. Some of our community coaches will also be attending this event. They work in schools, colleges and junior teams, and so we have the potential to include education about racism awareness in our programmes. I hope the session will provide some helpful pointers for them to use in their community work too."

Sophie Cowell added: "The purpose of this event is to showcase solutions and the constructive work organisations like Kick It Out and Chester FC are doing to tackle racism and inequality in football. We hope that people can take away ideas, especially the knowledge that there are solutions already out there through positive action in general. Our discussion is open to all and we hope that it will be an encouraging and informative debate."

The discussion is one of a number of free events taking place during the University's Diversity Festival 2017 which runs between February 27 and March 10, 2017, with the theme of 'Connect and Thrive'. The full details can be found at: www.chester.ac.uk/about/diversity-and-equality/diversity-festival