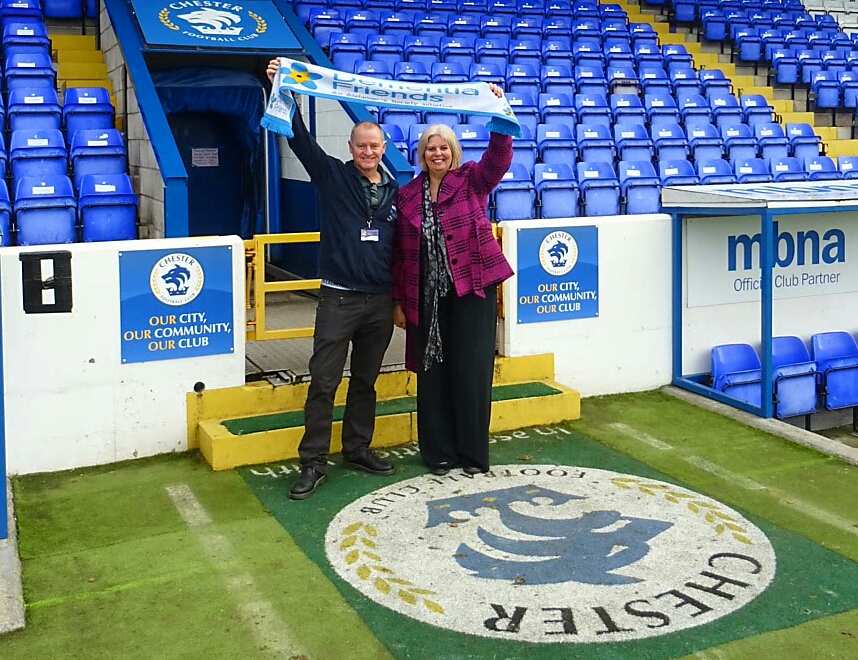 Blues fans are reminded this evening's match between Chester FC and Macclesfield Town is a special Memories Game.

The club will be paying tribute to supporter Garry Allen, who had a strong connection with Macclesfield, before the game and recognising it is 25 years since Chester City returned from exile at Moss Rose.

Andy Tysoe and Sandie Williams, co-chairs of West Cheshire Dementia Action Alliance, have worked with Jim Green, chief executive of Chester FC Community Trust, and the Sporting Memories Foundation to encourage supporters to celebrate the heritage of the club and raise awareness of dementia.

A special edition of The Cestrian match programme will be on sale and prior to the game fans can reminisce over a memories display in the Blues Bar illustrating the club's time in Macclesfield and talk to representatives from West Cheshire Dementia Action Alliance.

At half-time a number of familiar faces who served the club during its period in exile will be introduced to the crowd including Ray Crofts, Joe Hinnigan, Chris Lightfoot, Eddie Bishop and Roger Preece before Graham Abel,  who made over 300 appearances for the club between 1985 and 1993, is inducted into the Chester FC Hall of Fame.

Andy Tysoe, who works as a dementia nurse at the Countess of Chester Hospital and is a national campaigner, said: "Dementia is not just an issue for health and social care – everyone needs to know about it and how we can help support people.

"It can affect anyone – including footballers and their fans, families and friends, irrespective of who they support so we all need to work together to make it better for people with dementia and their carers.

"We applaud Chester FC for all they are doing to support their fans with dementia, including hosting Dementia Friends sessions, delivered by local champion Rob Catlow, to their stewards and volunteers."

Sporting Memories Network

Using football and sport as a way of promoting communication and interaction can make a real difference.

The Sporting Memories Foundation works with partner organisations to help support older people continue to enjoy sharing memories of their lives as fans or indeed players. A grant from The Big Lottery Fund has seen new weekly sporting memories groups start in the North.

If you would like to get involved, either as a volunteer or group member, visit www.sportingmemoriesnetwork.com.

Get Involved

Share your memories of the club's time in exile on social media using the #MaccMemories hashtag
Sign up to Dementia Research UK at www.alzheimersresearchuk.org
Contact your local Alzheimers Society branch via www.alzheimers.org.uk
Become a Dementia Friend at www.dementiafriends.org.uk
Businesses and organisations can join the West Cheshire Dementia Action Alliance
Follow Andy Tysoe's campaign at http://fabnhsstuff.net/fabchangeday/campaigns/dementiado/

Dementia Facts

Dementia is a brain disease, not a mental illness and not a natural part of growing old.
There are many different types: Alzheimer's disease and Vascular Dementia being the most common.
An estimated 850,000 people live with Dementia in the UK.
Dementia is not just about memory loss, it can affect reasoning, communication and movement.
People with dementia can continue to enjoy sports, new activities and contribute to their community.
If you are concerned about your memory, talk to your doctor sooner rather than later.