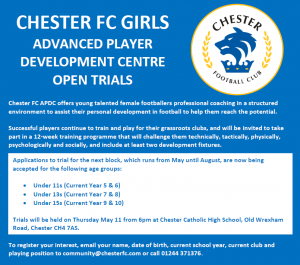 Chester FC Girls Advanced Player Development Centre (APDC) is inviting trial applications from young talented female players at U11s, U13s and U15s.
The APDC is designed to assist players in their personal development in football and to help them reach their potential, bridging the gap between grassroots football and FA Regional Talent Clubs.
Players receive professional coaching in a structured environment over 12 weeks and play development fixtures while continuing to train and play for their grassroots clubs.
Trials will be held on Thursday May 11 for the following age groups: U11s, U13s and U15s.
Jim Green, chief executive of Chester FC Community Trust, said: "We launched the APDC in October 2016 in partnership with Cheshire FA to provide increased opportunities for talented female players and help them reach their potential while supporting the excellent work of grassroots clubs.
"We were delighted with the response to the APDC and the level of talent underlined the quality of girls football locally. The players demonstrated outstanding commitment to the programme and performed very well in development fixtures.
"The next programme runs from May until August and we're now inviting applications from players interested in joining the APDC to attend trials on May 11."
Prospective players living within 60 minutes travelling time of Chester are encouraged to register for the trials. Please note the APDC is for females who are demonstrating a high level ability playing within mixed or girls club football teams.
Those successful will be invited to the APDC to take part in programme which will challenge them in line with the FA's four corner model (technically, physically, psychologically and socially).
Players continue to train and play for their grassroots club and receive additional coaching on a Thursday evening and play a minimum of two development fixtures.
Assessments for U11s, U13s and U15s will take place on Thursday, May 11 from 6pm to 7pm with registration from 5.30pm. The venue is Chester Catholic High School, Old Wrexham Road, Chester CH4 7HS.
To register your interest, email your name, date of birth, current school year, current club and playing position to community@chesterfc.com or call 01244 371376.