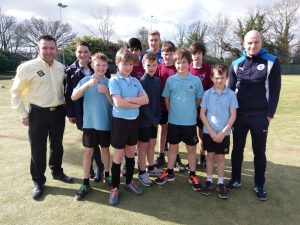 Chester FC staged an impromptu training session with Year 8 students at Upton-by-Chester High School thanks to Big Yellow Self Storage Chester.

The students at the school had helped contribute a sizeable amount of gifts and toys for the annual Big Yellow Chester Christmas Toy Appeal, which raised over £10,000 worth of gifts for under privileged and sick children in time for Christmas 2016.

Players including Ryan Astles, Sam Hughes and Evan Horwood, as well as Blues boss Jon McCarthy, dropped in to pass on some of the tricks of the trade to the delighted students.

Jeff Banks, business development manaager at the Chester store on Sealand Road, wanted to recognise the students at Upton for their efforts and teamed up with the Chester FC Community Trust who then organised for Jon McCarthy's men to stage a different PE lesson for the students – a live training session to help develop the youngsters skills.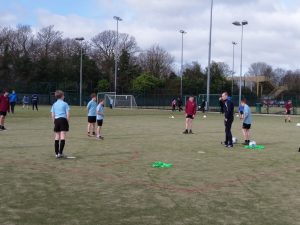 Banks said: "I would like to thank Chester FC and the Community Trust for agreeing to come along and reward the students for their part in doing so much for the Toy Appeal, they have been fantastic, so it was great to give them something back for helping those less fortunate than themselves."

Blues boss McCarthy said: "It was great to take the lads to reward Upton's students as they had really contributed to helping make Christmas special for many children, and we wanted to thank them on behalf of Big Yellow for such a gesture."

Jim Green, CEO of the Chester FC Community Trust was delighted to be able to help facilitate the session, "Upton High School really got behind the Toy Appeal and we were only too happy to reward their generosity with a football session and the chance to pick up some tips from our first-team squad."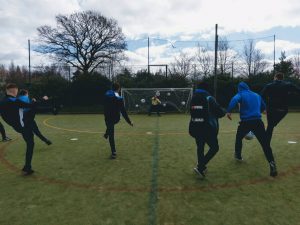 Karen Smale, Head of RS at the school, also thanked the club and Big Yellow for delivering the surprise training session. She said: "All the students in Year 8 loved their training session with Chester FC.

"We do a great deal of work for the community at the school so it's fantastic to have them rewarded for their contribution to the Big Yellow Toy Appeal, of which we are great supporters."

The Big Yellow Christmas Toy Appeal runs annually and businesses who would like to get involved with the 2017 appeal can contact Jeff Banks by emailing chester@bigyellow.co.uk.