Chester FC Community Trust is launching a new football education programme for 16-18-year-olds who want to turn their passion for sport into a career.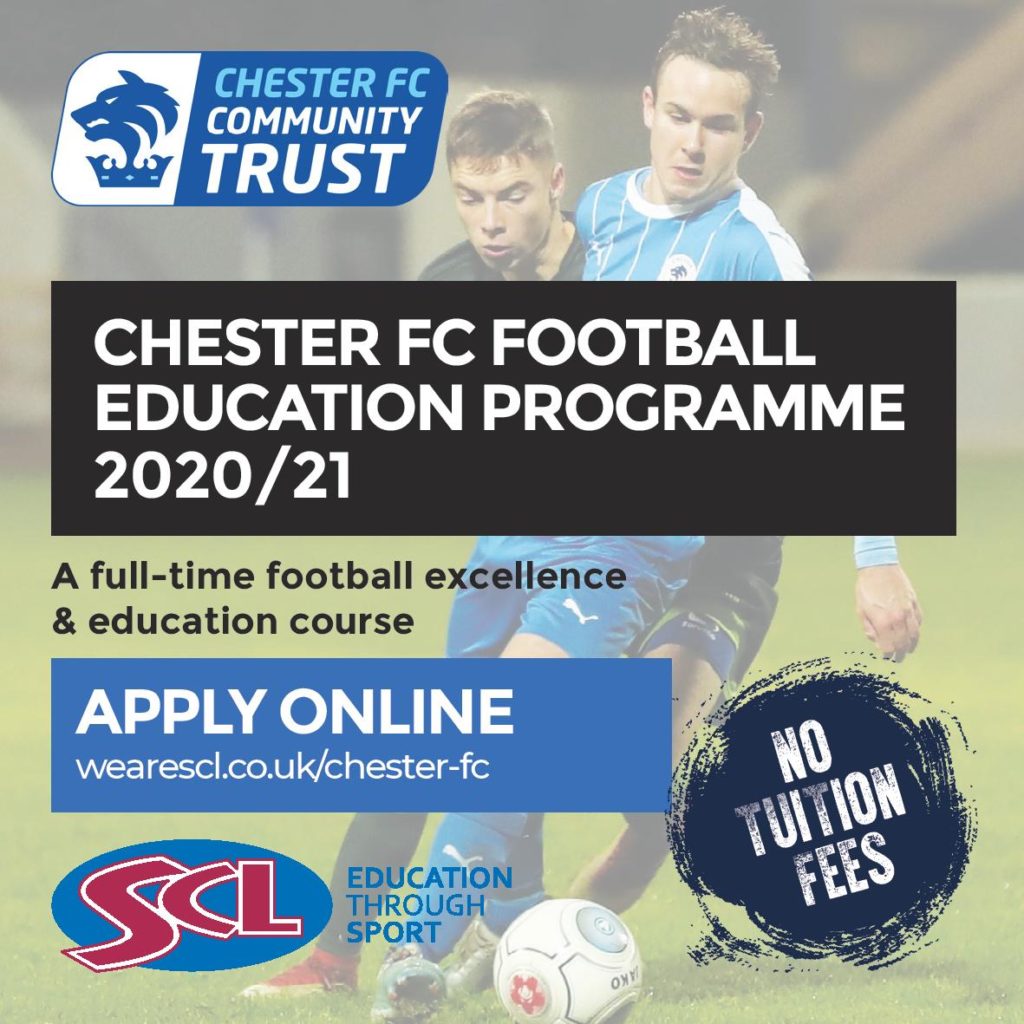 Leading sports education provider SCL Education & Training has partnered with the charity to offer a two-year full-time course from September 2020.
Students will gain a BTEC Diploma in Sport alongside a football development programme offering them daily training, competitive fixtures and the chance to complete FA coaching qualifications.
The course compliments the club's current academy scholarship programme and is aimed at young people with desire to pursue a career in sport or progress to university and will equip them with the skills, knowledge and experience to move into employment or further study.
Combining classroom and digital learning with high quality coaching, competitive football and guidance on fitness and nutrition, the innovative programme will help the students reach their full potential on and off the pitch.
The course will be based at King George V Sports Hub in Blacon with new teaching and sporting facilities on one site as part of the exciting scheme, which is being developed in partnership between Cheshire West and Chester Council and Chester FC Community Trust.
"We are thrilled to have partnered with SCL to offer this fantastic new programme to young people in our community," said Jim Green, CEO of Chester FC Community Trust.
"Students combine their passion for football with a full-time education and development programme and will benefit from an outstanding teaching and learning experience, which will push them to achieve their best.
"The career opportunities available within football and the sports industry are hugely exciting now, including coaching, performance analysis, sports science, physiotherapy and many more. This programme will give students the underpinning knowledge and skills to take the next step.
"Alongside their education, students will be part of a high quality coaching programme to aid their development as footballers featuring daily training and competitive matches at the new sports hub as well as detailed guidance from an experienced, knowledgeable team with links to professional and semi-professional clubs and USA scholarships."
SCL is one of the UK's leading independent providers of education through sport and works in partnership with more than 70 sports clubs, foundations and community trusts including Leeds United and West Ham United Foundation.
Chester FC Community Trust will be hosting a series of recruitment events and trials for prospective students in preparation for the 2020/21 academic year.
To find out more about the Chester FC Football Education Programme can visit www.wearescl.co.uk/chester-fc or email community@chesterfc.com.