Blues Giving Back is a new initiative from Chester FC and Chester FC Community Trust to support local charities facing increased demand due to coronavirus.
These past few months have been difficult for everyone, but the economic impact of the pandemic means there are more uncertain and difficult times ahead for many in our community.
It is the most vulnerable who will be at greatest risk and the true sense of community is to care for and help those less fortunate.
Blues Giving Back aims to help three amazing local charities responding on the frontline: Kidsbank Chester, Share and West Cheshire Foodbank.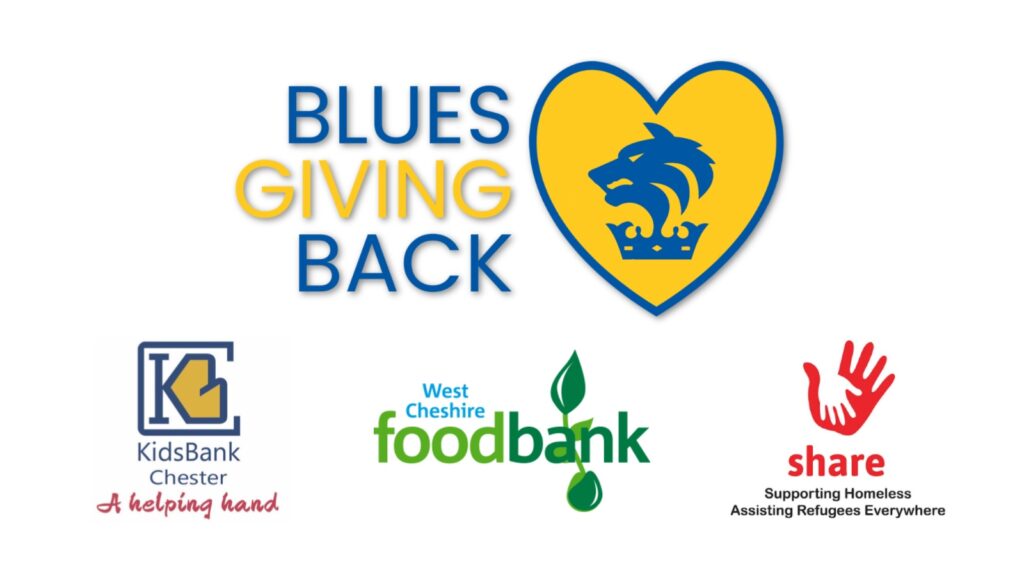 We are asking the Chester FC family and wider community to donate food, clothing, toiletries which the three charities will then distribute to individuals and families in need. All clothing items should be new or in excellent used condition.
A drop-off point for donations will operate at the Deva Stadium on Tuesdays and Fridays from 11am to 1pm on the following dates: June 23rd, June 30th, July 3rd, July 7th & July 10th.
Social distancing will be in place when dropping off items. The Community Trust can also collect donations if required through emailing community@chesterfc.com.
Each charity has provided a list of items that will help them in meeting demand for their services:
Kidsbank Chester
A simple £1 donation will make a huge difference as it will enable Kidsbank to purchase cots and high chairs for local families.
Share
Clothing: Men's (sizes S/M/L) jogging bottoms, shorts, t-shirts, new underwear and socks. Women's (sizes 8/10/12/14) leggings, jeans, t-shirts, jumpers, summer jackets, new underwear and socks.
Toiletries: Individual hand sanitisers, antibacterial wipes, roll-on deodorants, toothbrushes, toothpaste, shower gel, shampoo and condition.
Food: Dried items such as Pot Noodles, rice pots and pasta pots, crisps, UHT milk and cereal.
West Cheshire Foodbank
Food: Cup a Soup, tinned cooked meats, tinned meat or fish, UHT juice or cordial, tinned potatoes, tinned tomatoes, Pot Noodles, instant pasta, pasta sauce, instant mashed potato, tinned or instant custard, tinned fruit, biscuits, UHT milk and instant coffee
Jim Green, CEO of the Community Trust, said: "Blues Giving Back is a way for our football club to help these three charities who are doing vital work in our community.
"The effects of the pandemic will be felt for some time with a growing number of people likely to find themselves in need of support over the coming weeks and months."
"In these difficult times, our responsibilities as a community football club are even more important and we hope this initiative contributes to the wider efforts to support those who need help."
To request a collection or find out more about Blues Giving Back, email community@chesterfc.com.